7 Ways to tell if a freelancing opportunity is legitimate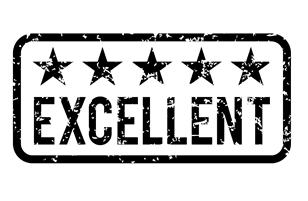 Finding the right freelancing job is often biggest hurdle that new freelancers face. But once you find a potential freelancing opportunity, how can you tell if it's legitimate? Here are seven signs to look for when vetting your next project:
Good Sign:

The company is a well-known brand or is local to your area

Legitimate businesses generally have no problem being up front with their contact information (some confidentiality agreements aside). If you are looking at a project that is from a business you recognize and that has verifiable contact information, you can feel confident that this project is on the up-and-up.

On the flip side, scammers are often vague about their company name, location, and contact information. They may not be willing to communicate through official channels if you are using a freelancing site, and may direct you to Skype or some other "off the record" medium. Be wary of engaging with potential clients that seem hesitant to give you appropriate contact information.
Good Sign:

The client lists a well-thought-out project plan with requirements

It takes time to put together a good job description or project plan, and the attention to detail in these documents will give you insight as to how much thought the client has put into their project. If the job description is rushed, contains only vague descriptions of what's required, and doesn't have a set budget, nine times out of ten it's a waste of time.

On the other hand, project descriptions that pile on the responsibilities without having a budget that reflects the amount of work involved are also typically a no-go. Look for clients that have a firm grasp of the amount of work to be done, OR clients that communicate they will need guidance to set requirements, and a budget to match.
Good Sign:

The client is willing to engage in a dialogue and negotiations

The bottom line is that your potential client is looking to you to solve a problem. In many instances, coming up with the best fit for a project means there will be some back and forth in terms of project scope, deliverables, performance goals, etc. Any client that isn't willing to discuss their needs with you in detail is a client that will be hard to please -- and potentially one that will be reluctant to pay. If you can't find clarity in the project discussions, it's best to move on.
Very Good Sign:

The client is happy to sign a contract before work starts

I am often surprised by how many freelancers and consultants don't use contracts in their day-to-day work. Just because a project is small doesn't mean that you don't deserve the protections a freelancing contract provides. Any client that is reluctant to sign a standard contract is one that may be reluctant to hold up their end of your agreement. Never work without a contract.
Bad Sign:

The client diminishes the skills required for the project

It's sad, but true: some clients will attempt to undervalue your work to increase their own bottom line. They want high quality, but aren't willing to pay for it. In most instances, you can spot this in the budget itself, but if the client doesn't have a budget listed, you can keep an eye out for this red flag. Any time a project listing says anything like:
"this should be easy for someone who knows what they are doing"
"this will be simple for an expert to do"
"I would do this myself but I am just too busy"
you can be sure that the person who wrote it is looking to pay as little as possible for the work. (And some won't pay at all!) Save yourself time and headaches and move on to clients who will appreciate your expertise and input.
Bad Sign:

The company lists pay that is too great for the tasks required

At the other end of the spectrum are those projects that seem to pay way more than the project requirements would demand. While this might seem like a great project on the surface, in most instances these projects are not legitimate. Instead of getting a project that pays, many of these are scams that will ask you to pay for a list of jobs that may or may not exist -- and if they do exist, they are likely to be already filled by local employees.
Red Flag:

The company wants you to cash checks, forward money, or act as their dropship supplier

Any job that requires you to process checks or cash from home is most likely part of a mail fraud scheme. Even if you believe that the job is legitimate, you can be arrested and convicted of fraud. At the very -minimum- you will be out several hundreds or even thousands of dollars as the checks and money orders you cash will be forgeries and the bank will want all of the money back, including what you've already forwarded to your "client". Best to avoid these types of schemes entirely.

The same can be said for dropshipping. Unless you are very experienced, you are likely to be out hundreds or thousands of dollars in purchased merchandise, storage, and postage. People who want to pay for the use of your eBay or PayPal account typically do so because they've already been frozen out/banned from these platforms for unscrupulous acts in the past. Steer clear of these "easy money" scams and save your hard work for clients that pay fairly and on time.

The best time to find out whether or not a freelancing position is legitimate is before you've put in a bid. Take the time to evaluate any project that comes your way, and trust your instincts -- if the job seems "off" you may want to pass it up and look for something that feels right for you.
Freelancing Course Waitlist
Be one of the first to get access when we re-open our freelancer training courses! Includes video training, ebooks, worksheets and a helpful step-by-step guide to teach you how to find clients and work from home successfully.