Freelancing Mom Reviews: oDesk!

Hello again Moms (and Dads) out there! I put it up for a vote and you decided: The next website review is all about oDesk.
While the platform is different from Guru in many ways, oDesk offers several advantages for finding clients and building a steady flow of work when you don't want to spend money up front.

Creating an oDesk Account
When you first get to the site, click on the "Sign up" link. (If you click "Become a Freelancer" it takes you to a longer explanation of how the site works.) Then you'll need to click the "I need a job" tab as shown below.

You'll be taken to a basic form where you'll need to fill in your personal information including name, email, country, username and password. If you have one of several accounts (Facebook, GitHub, LinkedIn, Google, etc.) then you can use that to sign up and bypass the form fields entirely.
Once you submit the form, oDesk will immediately send a confirmation to your email address. Click the link and you're ready to get started.
Your oDesk Profile
The profile information form is a fairly long one, so take the time to fill it out completely – just like the Guru.com profile, this is how prospective employers & clients will get an idea of your work.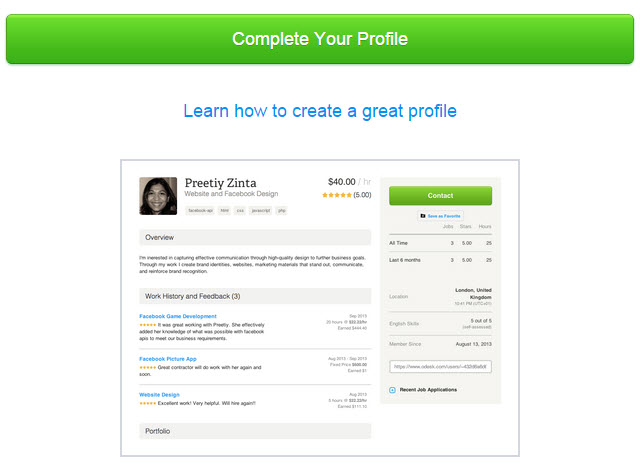 The profile allows clients to see samples of your work, a resume and other important information that may help them make decisions about working with you.
Two big differences in the oDesk profile setup:
English Proficiency – I've found that small businesses (and some larger ones, too) will hire virtual assistants and web developers from around the world. Being able to communicate well in English is something that those businesses look for, so it helps to be able to speak and write with confidence.
Hourly Pay Rate – oDesk is really tailored to meeting the needs of small to mid-size businesses who are looking for hourly employees. Whereas with Guru you don't necessarily have to put in an hourly rate to get profile views, with oDesk it's pretty much expected.
One nice thing about oDesk – they only make money when you make money. You'll note in the picture above that they charge 10% of what you charge the client.
So the trick to filling this out is to enter your desired pay rate in the "You'll earn" box – oDesk will adjust the rate they charge clients automatically.

Job categories for oDesk are pretty standard and include:
Business Services
Sales & Marketing
Customer Service
Design & Marketing
Administrative Support
Writing & Translation
Networking & Information Systems
Software Development
Web Development
oDesk Jobs
At the time of this writing, there were around 40,000 hourly jobs available on oDesk, and over 9,400 of those were full time. Some companies do all of their hiring on oDesk and look for multiple people for their positions: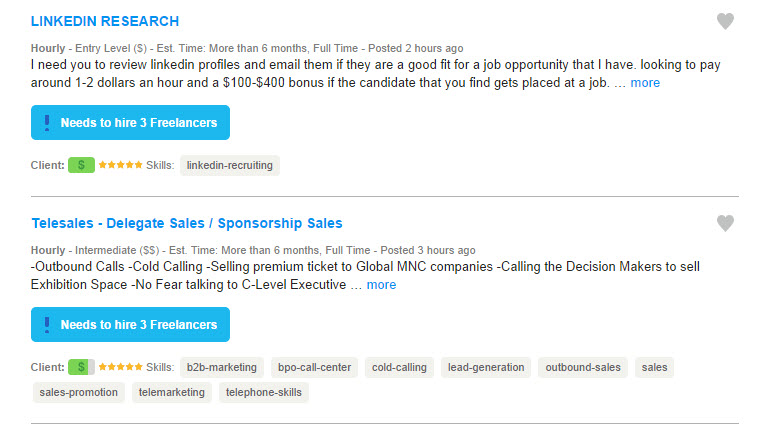 Overall Recommendation
ODesk has many great freelancing jobs for moms looking to work from home. The platform is easy to use and you never have to pay up front to get access to the jobs. For those who are just starting out with freelancing, or who are looking for steady hourly work, oDesk is a solid choice.